10 things to look for in case management software
Published 7th December 2020
Delivering, managing and evidencing beneficiary support programmes involves many working parts functioning seamlessly in order to fully support and help participants.
But how can you keep focused on your goal of ensuring the best outcomes for a programme participant, without losing sight of it as you work through the mechanics of programme delivery?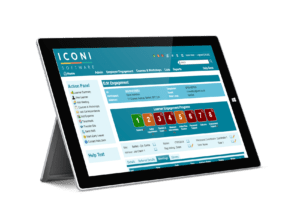 This is where case management or programme delivery software can help. An IT system which not only joins up all of the programme's working parts, but actually enables the programme to run with the greatest efficiency.
Choosing the right case management software for your programme can be confusing. So we have created a guide which suggests 10 key questions to consider when choosing case management software.
1. Which is best – a specialist platform, customer relationship management (CRM) software or spreadsheets?
Our advice would always be to choose a specialist platform. Discover why in our blog "The five main issues faced when beneficiary programmes are managed with non-specialist tools".
2. Should I opt for cloud-based or locally saved hardware?
Our recommendation is to choose case management software which is cloud-based. Find out more in our blog "Why cloud-based case management software provides a cost-effective, scalable and secure platform for running beneficiary support programmes".
3. Do I need a scalable/multi-programme solution?
One thing we would absolutely recommend is that you look for case management software that can grow with you. It can be hard to know how your needs may change. Can your system grow from 10 users to 100 to over a 1000?  Also, investing in a brand-new platform for each new programme is not an efficient way to operate, so be sure to ask how future programmes might benefit from the initial investment that you make.
4. I've found a software provider which offers a "fully outsourced solution" – what does this mean and do I need it?
A fully outsourced solution means 'that all the technical aspects of your case management software will be managed by IT specialists'. If you don't want to have the responsibility of managing your cloud solution, ensuring your data is protected by regular security updates, or optimising your hosting environment, it's best to leave this to a specialist. If you have in-house IT support, involve them in your decision-making process and ensure they feel confident about supporting an external software platform.
5. What should I ask about customer service?
As part of a due diligence process, we would recommend that you ask a potential software provider for:
Reference(s), testimonials and case studies of other customers
An overview of their customer commitments, including expected response times for technical queries and issues
The opportunity to speak to their Customer Services Manager
The process for logging issues/ticketing system
Details about a standard support contract and service levels
Customer satisfaction statistic
6. Can case management software help me manage compliance?
Compliance can be the biggest headache for Programme Directors and Managers, but it doesn't need to be. Case management software can have your compliance rules mapped within it, fitting your organisation's operational processes and programme delivery structures. Learn more in our blog "Don't let regulatory compliance distract you from achieving the best outcomes for your customers".
7. Is the software easily configurable?
"Off the shelf" or "turnkey" solutions are a very tempting and viable option for programme management. In fact, we would advise these solutions over a completely bespoke system which can become very costly. But, no matter what kind of programme you're running, there will always be a certain level of configuration required in order to adapt the solution to your needs.
Configuration is not always about adding extra functionality, it can also involve removing unrequired or excess features in order to increase ease of use. By asking the question, you will find out how easily the software can be adapted to your operational and reporting needs through configuration.
8. How will the software benefit the programme's end participants?
The nature of beneficiary programmes vary, but ultimately there will be an individual whose life will change for the better as a result of participating in a support programme. But how does the choice of case management software affect participants? The best way software can support end participants is by helping them progress through the programme as quickly and seamlessly as possible.
Software can enable programmes to run efficiently in a number of ways. For example, by reducing the amount of time Case Managers spend on administrative tasks, or by linking and highlighting all the different external support services a participant can access. Fine-tuning all the working layers of a programme really can result in optimised outcomes for participants.
9. Do I need integrated reporting?
Reporting plays a hugely important role in most support programmes. So why is integrated reporting important? It's a simple fact that when all your programme data is saved in one system, the time it takes to pull data and create reports, is reduced. If your programme is operating on a Payment By Results basis, this can result in faster payments, so we would highly recommend that your choose case management software with integrated reporting.
10. Should I select a sector specialist?
Choosing a sector specialist, rather than a generalist, for your case management software provides many advantages, including:
Breadth of experience: it's very likely they have worked alongside many of your counterparts and picked up a lot of insight into the nuances of the beneficiary support sector.
Leading the consultation: "we don't know what we don't know" is a common issue, but a sector specialist will be your guide, posing questions you may not have considered and offering advice based on their experience.
Tried and tested – there's no question of the software being suitable for your sector when it's already being used by other practitioners.