Blue Monday
Published 15th January 2018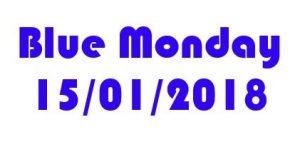 Today is Blue Monday, the day that has been dubbed 'The most depressing day of the year', everything seems to be pointing towards the negative, the weather, Christmas is over, your new year's resolutions are broken and you're back to work.
However, as many of us know, feelings of depression aren't simply limited to today, that's why we at ICONI believe in looking after our mental health all year round. Your mental health is just as important as your physical health, you wouldn't try to run with a broken leg? So why try and soldier on if you're not feeling in the best mental state.
We would like to humbly offer a short list of things that help us when we're not feeling the greatest, hopefully you'll find them helpful too:
Studies show that we spend 10-15 minutes on a Monday just simply complaining about the fact that is 'Monday again', instead of complaining, take those 10-15 minutes and sit down and clear your head, relax and mentally prepare yourself for the day, instead of thinking about all the things that are wrong, think about all the things that are going right, a deep breath in can have a surprisingly positive effect on your mood.
Not everyone's cup of tea, but, exercise is a fantastic method of improving mental health, the boost of endorphins will elevate your mood and the workout will help you de-stress and relax
Talking your problems out with someone or even writing them down can help lift a weight off your shoulders. Bottling things up can lead to depression and anxiety, many of us find that vocalising our problems makes them seem less scary.
Listening to your favourite music has also been proven to help both your body and mind relax, put your headphones in at your desk, on the bus, or wherever you are and listen to a couple of your favourite songs, they might just make you feel better.
And finally, do things that make you feel good, whether that be going for a walk, baking or reading a book. Do what makes you feel good always. If it doesn't make you happy? Don't do it.
Here at ICONI, we place massive importance on Health and Wellbeing, that's why we are proud to offer a unique CEP software system to firms helping people improve their mental and physical health. If this sounds like your firm, please don't hesitate to contact us, we would love to be your perfect software partner.