Contract Winners Announced
Published 31st October 2017
This month saw a massive £626,487,000 worth of contracts being awarded across the UK including the new Work & H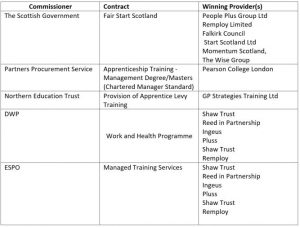 ealth Programme and Fair Start Scotland.
Well done to all the winners from the ICONI team, especially to our own partners!
ICONI's Customer Engagement and Progression (CEP) software solution help organisations that provide support to these types of programmes. Our secure, web-based software improves efficiency and maximises performance by enabling organisations to fully manage, track and report on all aspects of a client's support. CEP also effectively manages a variety of contracts across multiple funding streams.
Click here to watch our video or contact Kevin in the sales team to request a demo by clicking here.