Diabetes Prevention Week
Published 17th April 2018
This week marks the beginning of "Diabetes Prevention Week" , the campaign has been launched by the NHS Diabetes Prevention Programme in a bid to raise awareness of the growing number of preventable type 2 diabetes related medical issues in the UK.
According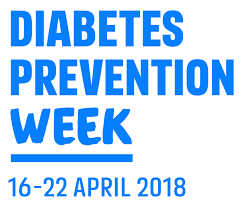 to NHS statistics, nearly 22,000 people with diabetes die every year, with type 2 diabetes being the number one cause of preventable sight loss in people of working age, not to mention it is a major contributor to kidney failure, heart attack and stroke.
There are currently 3.4 million people living with type 2 diabetes in the UK with over 200,000 new diagnoses every year, as a result, the NHS have launched the "Healthier You: Diabetes prevention programme" in conjunction with public and healthcare professionals, specifically GP's and practice nurses. The programme is designed to identify those at high risk of developing diabetes and refer them to a behaviour change programme, in an attempt to combat the number of people developing type 2 diabetes.
Diabetes Prevention Week is a very worthwhile cause to get behind, as it stands type 2 diabetes treatment accounts for just under 9% of the NHS budget, around £8.8 billion, taking this into account along with the fact that there are 5 million people in the at-risk category in England, estimates show that 1 in 3 people will be obese by 2034 with 1 in 10 people developing type 2 diabetes. The figures highlight that type 2 diabetes will soon become an epidemic, if it isn't already.
Issues like this are the reason our software has been developed specifically to help people. CEP can be used to track someone's journey from identification of risk and the barriers they face, to improving behaviour and can even be used for referrals to the next stage in the journey of help. The progress bar also allows you to see what stage a user is at in their journey to a healthier lifestyle, with the goals feature enabling you to record and track a persons personal goals. While the list of available modules CEP has on offer is extensive, it is not exhaustive, should you require a module/feature not already on offer, we are more than happy to offer a consultation on developing programme specific modules/features.
We are passionate about improving the health and well-being of as many people as we can, are you? If so, fill out or contact form and we can help you change people's lives.