ICONI Becomes More Accessible
Published 6th February 2018
The ways in which people access information online have changed drastically over the last number of years, people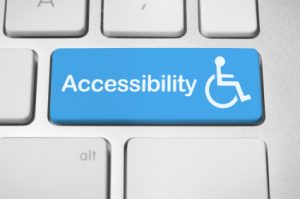 are now able to access your company's website from literally anywhere on a vast array of mobile devices. This has had a profound effect on website design meaning the days of putting website visuals first and content second are long gone. There has been great emphasis put on accessibility and more specifically website accessibility, meaning that your website is user friendly for ALL users.
Accessibility is the 'inclusive practice' of removing barriers that would prevent interaction with or access to websites by people with disabilities. Therefore, when sites are correctly designed, developed and edited all users have equal access to information and functionality, something that we at ICONI continually work towards achieving.
Inclusivity is something that we value greatly, we believe as a company that everyone should be afforded the same opportunities and access to information. We promote a sense of inclusivity in our office, everyone is valued and every opinion matters. We also have team days out in order to make everyone feel included and create a comfortable, supportive work environment for all. Along with internal accessibility we have also continued work on our external accessibility as a company, a proactive measure that we have taken lately to try and increase our accessibility is the recent introduction of a 'Browsealoud' feature on our website.
Browsealoud is a clever and innovative piece of support software we have added to our website that has aided us in facilitating access and participation for people with Dyslexia, mild visual impairment, low literacy and people who speak English as a second language. Browsealoud reads our site content aloud for the user in a range of languages and voice settings changing the users experience for the better. It has also allowed us to take a practical step forward with increasing our corporate social responsibility.
What do you or your company do to promote inclusivity and accessibility both on and offline? If you have any tips or suggestions that you think we would be interested in trying, please let us know! We are always looking for ways to promote a sense of respect and value for our customers and staff. When we say we want to help change people's lives, we mean it.