ICONI Presents Get Set UK with the Partner of the Year Award
Published 4th July 2017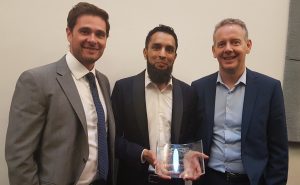 ICONI was delighted to be a sponsor of the ERSA Employability Awards that took place at an evening ceremony in London on 29th June.  The awards, hosted by BBC journalist Kirsty Lang, and attended by the Minister for Disabled People, Health and Work, Penny Mordaunt MP, showcased best practice from across the employment support sector.
Kirsty McHugh, Chief Executive of ERSA commented "These awards celebrate the very best in class – the frontline advisers and partners who go above and beyond to support people into work, the businesses who give employees a chance in their workforce and the jobseekers themselves, who often overcome a range of barriers to enter work and transform their lives and those around them."
ICONI sponsored the Partner of the Year Award, an award focused on performance and innovation and is the perfect category for us to sponsor.  We are passionate about the great work that Partners do and we continue to support organisations that help change people's lives with our Customer Engagement and Progression (CEP) beneficiary support software.
The finalists within the category were; Opportunity Access, Newport City Council and Get Set UK with all three being deserving winners for the outstanding work that they do within the sector.
ICONI's Managing Director, Liam Jordan, was pleased to announce Get Set UK as the winner of the Partner of the Year award, with Zak Patel and Tom Harley delighted to be accepting the award on behalf of the organisation.  Liam said: "I am delighted that ICONI is associated with these awards for such inspiring organisations that support people to positively change their lives.  Get Set UK is a fantastic demonstration of this work.".
ICONI would like to congratulate Get Set UK and the other winners of the 2017 ERSA Employability Awards.  We also wish to extend our congratulations to all the finalists for their hard work and dedication to the employment support sector.  Read more about the ERSA Employability Awards and see the list of the winners and finalists here.