ICONI Sponsors the NI Housing Festival!
Published 15th June 2018
Attend a Housing Festival with a difference in Belfast later this month!

CIH Northern Ireland, the independent voice for housing in Northern Ireland, is hosting a housing festival with a difference, in The Treehouse, Belfast on 21 June 2018.

Organised by Futures NI (a new sub-group operating under CIH NI), this unique festival-style event is designed specifically for younger people, those who are new to the housing sector, and those who simply want to learn more about the housing sector in Northern Ireland.
Unlike many corporate conferences, this festival styled event is designed to be informal, welcoming, friendly and engaging; with a dress-down style and engaging themes, attendees will have a great opportunity to meet new like-minded people whilst learning in a fun, engaging and collaborative environment.
The event will feature a series of talks on a wide variety of fascinating subject themes, with a main stage for the key topics of the day, a series of 'unplugged sessions' addressing softer subjects such as communication skills and social media, and even a 'campfire session' which allows you to set the agenda, ask the questions, and get the answers you're looking for!
Speaking at the launch of the event recently, Tom Potter, Chair of CIH Futures NI, said:

"This exciting housing event has been devised and developed by the members of our new Futures Group and has been carefully designed to meet the needs of younger housing professionals, who want to learn, network and upskill – but in a more fun and informal way.
By exploring important housing matters in this very unique way, this festival will explore some of the big picture housing issues ("What will housing look like in 10 years?"), provide real insights and experiences from many of Northern Ireland's leading housing figures, and include discussion around lifestyle topics such as social media, communications, and well-being".
The Northern Ireland Housing Festival takes place at The Treehouse, Belfast, on 21 June 2018 from 11am to 5pm and is generously supported by our event sponsors: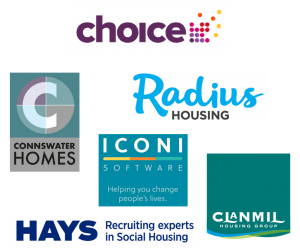 *Tickets can now be purchased from CIH by calling 02890 778222 or by emailing [email protected]