Kevin Hamilton joins ICONI as Business Development Manager
Published 26th October 2017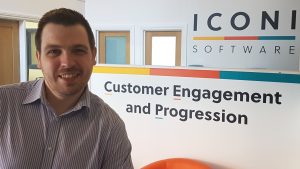 ICONI Software is delighted to announce Kevin Hamilton as our newly appointed Business Development Manager.
Kevin has a strong background in sales and has also worked on several government contracts including Work Choice and Steps 2 Success. With this wealth of experience, he has an in-depth understanding of the issues faced by organisations delivering support programmes.
On appointment to his role, Kevin said, "I am very excited to be part of ICONI and I believe our CEP software can make a positive difference and add value to the organisations that use it. I feel lucky to be able to work for a company that has a similar passion to myself; helping organisations who help others."
The appointment of Kevin marks a milestone for ICONI as they continue to expand and grow their business. ICONI's Managing Director, Liam Jordan welcomed this appointment and stated, "Kevin's energy and motivation is an ideal fit with our team and ICONI will benefit greatly from his experience. Kevin is a natural at developing relationships, building trust and understanding the issues faced by organisations that support people."
ICONI supports organisations that help change people's lives via its Customer Engagement and Progression (CEP) software solution. This software is already in use within charities, local authorities and private organisations throughout the UK and Ireland. If you want more information or a demo of our CEP software, please contact Kevin or call us on: 028 90319300.