My Time As An Intern
Published 10th April 2018
I started reading for my Marketing Masters in September of 2017, previously I had always said I was finished with education and I was ready to start working, but after taking a year out, I realised that as a graduate in today's hyper competitive market, you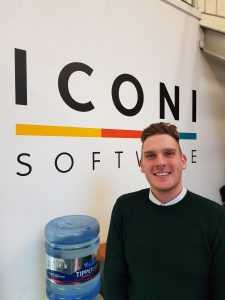 constantly need to be learning and bettering yourself while working to ensure you stay ahead and increase your employability and I felt a postgraduate degree was a good way for me to do this.
Two months into my studies, I saw an internship advertised with ICONI Software and after carrying out some research, I liked how ICONI was dedicated to 'helping businesses who help people' and decided to apply, I was then called for interview and offered the internship shortly after.
I accepted the internship and began my first day as Marketing Intern on January 3rd, 2018. When I started work my knowledge of marketing was completely theoretical, I had studied it in one form or another during my undergraduate degree (Public Relations) and I was (and still am) studying it in depth in my Postgraduate studies, so naturally I wasn't completely confident in my abilities.
Seeing this, my manager Kevin put me at ease and reassured me that he wasn't expecting me to be a marketing mastermind right off the bat. Kevin has played a huge part in helping me develop my skills, he talked me through how to complete tasks that I struggled with and he pushed me and continues to push me to be more confident in my own ideas and to follow my own instincts. Along with Kevin, the team that I work with made me feel welcome from my first day, offering support and guidance when I needed it.
It's only when you start putting what you've studied in to practice that you realise you know more than you think you do, since starting with ICONI I have designed, developed and implemented a company email newsletter alongside Kevin which has been a big success. I have learned valuable information and practices regarding Social Media Marketing, Analytics and the importance of content and follower engagement, I have also been awarded a degree of creative license via the blogs I write for the company website. The blogs are of course always topical and relevant to the business but they were also very interesting and fun to write.
Coming from a small coffee shop where I worked either alone or with one other person, I learned once again what it feels like to be a part of a team. It was nice to come to work and have people to talk to and interact with and more importantly, to learn from. The team atmosphere that is promoted within ICONI has helped me to understand fully the importance of flexibility in a team, seeing how each of the different departments help each other is part and parcel to why ICONI is a success and why it continues to grow. Along with this during my time as Intern, I took part in one of the company's team building days where we visited one of Belfast's many "Escape Rooms" before going on a tour of the city and finishing up with a team dinner.
While I feel like I know ten times more than I did when I started it's important to note that I haven't only learned marketing and communication skills while working as in intern, I also learned important interpersonal skills, such as, how to work in an office environment, key skills that you just assume you know such as Microsoft Office, MailChimp and Canva. I most definitely know a lot more than when I first started, skills that will only grow as I continue to work and grow with ICONI.
I am very pleased to say that when my internship came to an end in March, ICONI offered me a position as Marketing Assistant. It is great to be part of a company who has rapid growth plans and to be part of it. ICONI focus on on working with organisations who support people into employment and to learn better skills, but they also put it into practice themselves by hiring interns and apprentices.