National Apprenticeship Week #NAW2018
Published 7th March 2018

This week marks the 11th annual National Apprenticeship Week. It is an exciting opportunity to celebrate apprenticeships and how they benefit people, businesses, communities and our economy.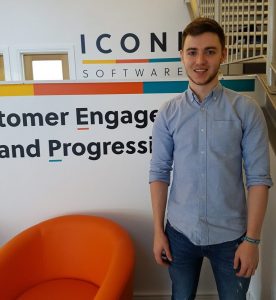 Our very own higher-level apprentice, Tiarnan, has written this week's blog based on his personal experience with apprenticeships.
I chose to complete a Higher-Level Apprenticeship in IT after completing a Foundation Degree in Computing. I decided I didn't want to go down the University route and the apprenticeship concept appealed to me as whilst still gaining a recognised qualification – I feel the benefit of working within a professional environment and the 'earn-while-you-learn' approach is more suited to me personally.
Computing and IT really appealed to me as I have always been interested in computers at home and at school. I started learning computer languages on YouTube and my love for computers grew from there.
With an apprenticeship, I have gained  and continue to gain experience through working which is invaluable and isn't gained in the same capacity through University. It also allows me to add the experience and qualification to my CV which will help my long-term career goals.
I enjoy working at ICONI Software as the atmosphere is professional and friendly, I am gaining experience in SQL and C#, this practical knowledge will help me further my career in IT… hopefully with ICONI!
#NAW2018