NI Unemployment Rates Lower
Published 26th January 2018
The Department for the Economy reported this week that unemployment in Northern Ireland reached its lowest level in over a decade, figures show the unemployment rate at 3.8% for the period September to November 2017, falling below the UK rate of 4.3% for the same period.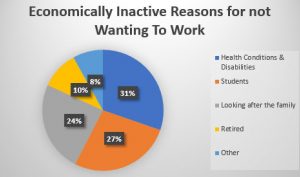 While it may seem as though we are out performing the UK, we are not, much of the decrease can be attributed to the increase in people becoming 'economically inactive' which refers to people who are of working age but are neither in a job nor looking for work.
The economic inactivity rate in Northern Ireland (28.2%) is consistently above the UK rate which now stands at 21.2%. NISRA the official statistics agency noted, "The current inactivity rate is the highest rate recorded since 2010, but remains significantly below peak rates recorded in mid-2009". Of the economically inactive 81% did not want a job while 19% did.
It will be interesting to see what happens next in Northern Ireland and it raises many questions:
Will they follow the footsteps of the GB Governments in providing specialised employability support?
Will the next programme in NI be like the DWP's Work & Health Programme to encourage those with health conditions into employment?
What affect will Universal Credit have on these numbers where by it make it easier to work part time or in temporary positions?
Once an Executive is back up and running in Northern Ireland, it will be exciting to see whether or not they will implement similar employability support programmes like the ones in the rest of the UK.
At ICONI, we understand that some people require support to gain new skills, increase their confidence and learn new employability skills. It takes time gaining these skills and finding sustainable employment and that's why we designed our CEP software to help track and record on a person's journey. Our CEP Portal allows them to access resources out of working hours for those last minute interviews and job applications meaning support is no longer a 9 to 5 thing.
Feel free to contact us with any questions you might have, we want to help you change lives.