Recycling Is A Lifestyle Choice
Published 11th June 2018
Jake, one of ICONI's software developers, has a passion for recycling and his enthusiasm is highly infectious. So much so that we have setup an inhouse recycling scheme to handle our waste products including plastics, glass, paper and cardboard.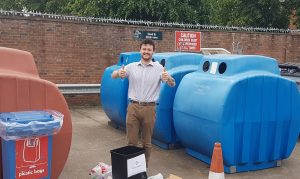 Jake's view is that 'YOU should be the change YOU would like to see in the world'. Who can argue with that? Looking after the environment is a much larger issue for any one individual, but through each of us taking responsibility and carrying out, even a small recycling deed, we can attempt to leave the Earth in a better state than how we found it. It is a lifestyle choice.
So over time, ICONI hope this modest action will help us to make a dent in the impact we are having on the environment. We also hope that other organisations do a little more…. challenge accepted?