Time To Talk Day – Supporting Mental Health
Published 2nd February 2017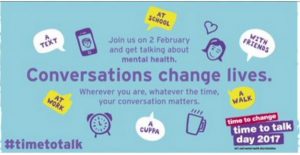 Today marks Time to Talk Day, a national campaign to change how we all think and behave with regards to mental health problems. Organised by Time to Change, the goal is that people across the UK talk about mental health in order to educate each other and to help extinguish the stigma of it.
Since its launch in 2014, this campaign has sparked millions of conversations in schools, homes, workplaces, in the media and online. It has also attracted support from celebrities such as Freddie Flintoff and Stephen Fry. This years' Time to Talk Day will be kicked off by HRH Prince Harry.
Statistics show that 1 in 4 of us will experience a mental health problem in any given year, but many of us are too afraid to talk about it. Too many people with mental health problems are made to feel isolated but by opening up to mental health you can make a real difference to someone's life.
Sue Baker, Director of Time to Change, talks about raining awareness on the issue: "Mental health problems are common and can affect any one of us, yet too often people are afraid to talk openly about mental health for fear of being judged. Time to Talk Day is a chance for everyone to open up about mental health – to talk, to listen, to change lives. We want to get the nation talking round the clock, whatever the time, whatever the place, wherever you are – it's easy to take part and make a change."
ICONI Software are active supporters of organisations that improve people's lives and recently partnered with the national charity Shaw Trust to help deliver their Live Well Kent Initiative, a programme that aims to support and improve the mental health of individuals. Read our case study to find out more.
Join hundreds of organisations and schools who will all be having conversations about mental health and follow the discussions on Twitter.
For information about mental health issues and instructions on how you can get involved in Time to Talk Day please visit the Time to Change website #timetotalk