Unemployment is at its lowest rate since 1975!
Published 13th December 2017
The Department for Work and Pensions released some new stats today, including the fact that the UK now has the lowest unemployment rate in 42 years.
The unemployment is now sitting at 4.3% which is the lowest rate since 1975.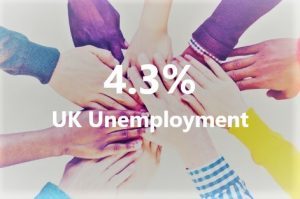 Key stats from the DWP press release also include:
the number of people in employment has increased by over 3 million since 2010
youth unemployment has fallen by over 40% since 2010
the proportion of young people who are unemployed and not in full time education remains below 5%
(source gov.uk)
The effort put in by the UK Governments with the Employability, Skills and Health & Wellbeing programmes, such as Work Programme, Work Choice & Apprenticeships, is really beginning to pay off.
With Fair Start Scotland & Work & Health Programme about to go live, it will be great to see the success of these programmes drive the unemployment rate down even further.
ICONI are proud to work with organisations, who support individuals change their lives, with our Customer Engagement and Progression (CEP) solution which tracks and reports on participants' journeys to sustainable employment.
If you are an organisation delivering employability programmes and want to know how ICONI can help, then contact Kevin in our sales team.