Welcome to our new apprentice!
Published 28th November 2017
The team here at ICONI has continued to grow and we are pleased to welcome our newest team member, Tiarnan Carson.
Tiarnan joined the team as a higher-level apprentice (HLA) within our Support Centre team.  He will work closely with the existing team whilst studying for his ICT Diploma.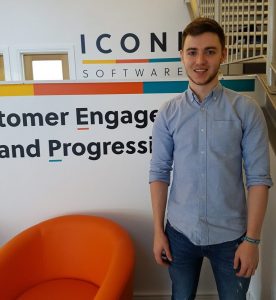 Our CEP solution is used by organisations who offer apprenticeships and it is great to see the outcome of these programmes in action.
Our Managing Director, Liam Jordan, said: "I am delighted to welcome Tiarnan to ICONI and very pleased to hire our first Higher Level Apprentice from the Belfast Met.  This programme is ideal as it will enable Tiarnan to apply his newly attained skills directly to the areas that ICONI want to focus on."
If you are an organisation who offers apprenticeships and want to find out more about how ICONI can support you, then contact Kevin in our Sales team.