Supporting ENABLE Scotland in their aim to help people with learning disabilities into work
Published 1st November 2019
ENABLE Scotland is the largest charity in Scotland for people who have learning disabilities. As less than 7% of people who have a learning disability have a job, ENABLE Scotland are helping to address this by delivering their ENABLE Works programme. This programme aims is to give every person with a learning disability in Scotland the opportunity to work.
ENABLE Works is helping people develop their employment skills, explore their talents and ambitions, and ultimately find work. ENABLE Works is also engaging with employers as part of the programme by helping their businesses grow and supporting them with training and consultancy as new staff are recruited. Every year, ENABLE Works supports over 1500 individuals with learning disabilities into work. Guided every step of the way, they are helped to set goals, build their skills and find the right job.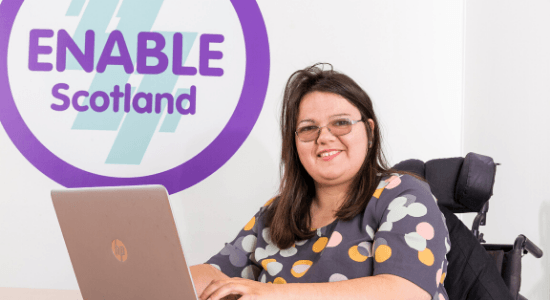 ICONI were chosen by ENABLE Scotland to design and implement a solution to help manage this programme. ENABLE Scotland were looking for a software platform that would allow them to manage the end-to-end journey of the programme beneficiaries, whilst tracking all of the individual relationships between the case workers, and the individuals being supported. Above all, they wanted a solution which was completely focused on optimising positive outcomes, which in this case was supporting individuals with learning disabilities into employment.
ICONI worked closely with the team at ENABLE Works to assess their needs, plan out the journey of the beneficiaries, before quickly configuring their software platform and mapping operational activity. The new solution has a wide range of employability related features including goal setting, action planning and performance reporting, alongside employer and vacancy management.
Lianne Williams, Head of Performance at ENABLE commented: "In our search for the right platform to manage our programme, we found many of the CRM style software packages available to be very sales-orientated. We were also clear that we wanted a solution that was specific to our sector. We chose ICONI's platform because it had all of the features we wanted and needed to be able to successfully manage our support programmes. We also took great confidence in the fact that the ICONI team have many years' experience of delivering similar solutions."
ICONI Managing Director Liam Jordan said: "The implementation of this project went really smoothly as the ENABLE Works team had already streamlined their operational processes. This provided the ideal starting point from which we mapped our software to these processes and the team's workflow. The outcome was a perfect turnkey solution that from day one, helped accelerate people who have learning disabilities to get into work."
---
About ENABLE Scotland
Founded in 1954, ENABLE Scotland is the largest member-led learning disability charity in Scotland and supports nearly 3,000 people with learning disabilities. Their vision is a society where every person who has a learning disability will have the choice and control to live the life they choose.
www.enable.org.uk