Feature Spotlight: Vacancy Matching for Job-Seekers
Published 8th December 2020
Help your programme participants quickly find highly relevant jobs – either independently or with a helping hand from their Advisor
The ICONI Multi-Programme Solution MPS comes with a comprehensive, out-of-the-box functionality to support both Vacancy Management and Vacancy Matching. If you are delivering an employment support programme, our Vacancy Matching feature will help improve your programme outcomes, just like our Vacancy Management feature.
The Vacancy Matching feature is designed to help your participants quickly find highly relevant jobs, either independently or with support from their Advisor. With the ability to present internal vacancies (i.e. those sourced by your organisation) alongside those from an external feed such as Adzuna, programme participants have access to a comprehensive view of UK-wide job vacancies; matched by suitability.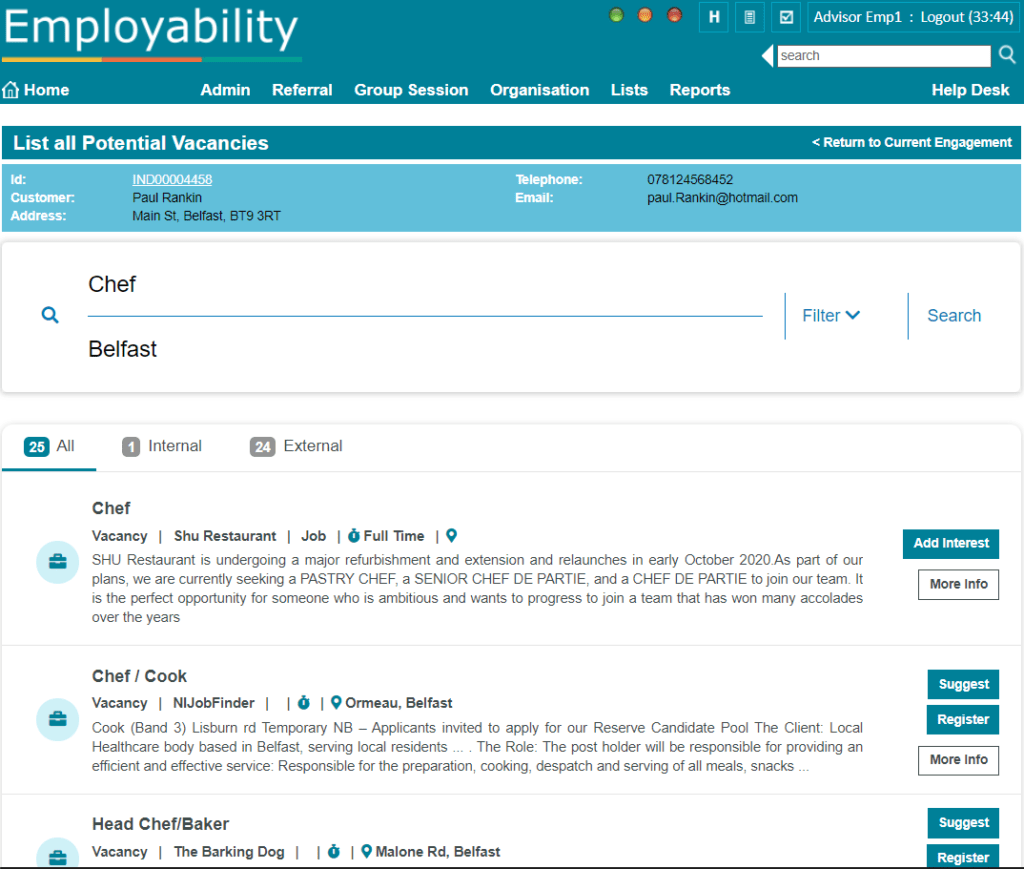 Highlights of the Vacancy Matching feature
Managing a Participant's Job Search Interests
Advisors work with each participant to identify and manage their 'Job Search' interests, resulting in participants having greater visibility of potential jobs most closely aligned to their own interests and skills set.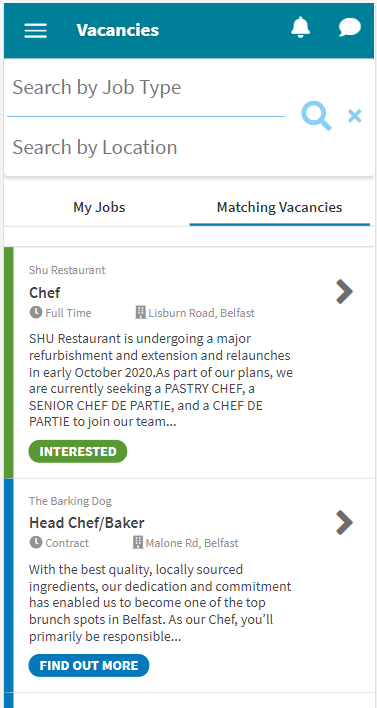 Providing Participant Access to Vacancies
The ICONI secure Customer Portal gives participants 24×7 access to undertake independent job-seeking activities too; including:
Viewing vacancies that have been matched to their job search interests
Undertaking vacancy searches based on job type and location
Saving vacancies of interest, for future reference within the "My Jobs" section
Advisor Insight and Support
Advisors have the ability to see what jobs a participant has shown interest in and their levels of job search activity. Advisors can also perform vacancy matching on behalf of the participant and 'suggest' suitable vacancy matches with are highlighted to the participant via the Customer Portal, alongside other potential vacancy matches.
Tracking Vacancies Through to Outcome
Advisors are able to monitor a Participant's progress against each vacancy as they go through the key stages of a job application too. From expressing an interest in a vacancy and submitting an application, to attending an interview and receiving a job offer. Any successfully filled vacancies are automatically linked to create job outcomes.
Showcasing Internal and External Vacancies
Preference can be given to internally sourced and managed vacancies ensuring they are promoted above external vacancies within the tailored search results. An external vacancy feed such as Adzuna can also be used to provide comprehensive access to UK-wide job vacancies.
Participant Matching
Internally sourced and managed vacancies can also be matched against a pool of programme participants, and then highlighted to relevant participants as a "suggested" vacancy.
3 Ways That ICONI's Vacancy Matching Can Support Your Advisors and Participants Improve Programme Outcomes
Participants gain direct access via the Customer Portal to a comprehensive view of UK-wide job vacancies tailored to their location and interests. Advisor and system suggested vacancies are promoted to participants in addition to them been able to independently search for jobs at a time that suits them.
Advisors achieve greater awareness of where targeted participant job search support can be provided to improve programme outcomes.
Supports participants to gain increased confidence and engagement with the programme and encourage a proactive approach through access to the 24×7 digital self-service tool.
3 Ways Vacancy Matching Can Support the Operational Delivery of Your Beneficiary Support Programme
Help accelerate job outcomes with the highly targeted, proactive vacancy matching results being showcased to participants and filled more effectively.
Map KPIs based on job outcomes or incremental job seeking milestones, with each step in the process tracked and recorded.
Strengthen relationships between Advisors and participants with the benefits and efficiencies of the ICONI Customer Portal as a further channel of communication with self-serve capabilities.
Questions?
For an informal chat about the Vacancy Matching for Job-Seekers feature, or to arrange a demo, please call us on 028 9031 9300.