Why cloud-based case management software provides a cost-effective, scalable and secure platform for running beneficiary support programmes
Published 24th July 2020
The term "cloud computing" is familiar to most people (if it's not, skip to the end of this blog for a quick guide to the terminology) but what about its benefits? Is using a software programme or platform that is accessed via an internet browser safe? Can it really save your business money? Is it less secure than software saved to a local computer?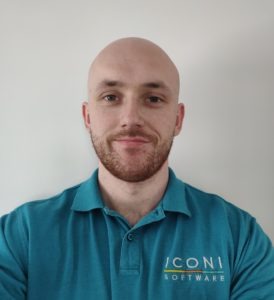 Ryan Neill, ICONI's Senior Cloud Engineer presents a short guide to the top six reasons why you should consider choosing cloud-based case management software to manage your beneficiary support programme.
---
What are the main benefits of using the cloud
Any kind of cloud-based solution offers these main benefits:
Access from anywhere | Advisors and Case Workers only require internet access to be able to obtain secure access from the office, home, or anywhere else. The on-going pandemic has raised the need for remote access from a nice to have, to a must-have
Lower operating costs | You only pay for the services you require and use.
Scalability | If your business needs to change, you can quickly scale up, or down, your infrastructure.
How does ICONI use the cloud?
ICONI's case management software – our Customer Engagement & Progression (CEP) Platform – is cloud-based. As a Microsoft Partner, we use the cloud computing service Microsoft Azure. This means that we are able to offer our customers a private cloud solution, with full technical support from ICONI's DevOps team who look after both the cloud application, and the infrastructure behind it.
Let's take a closer look at the main benefits our customers gain from day one of using our cloud-based software.
The top six benefits of using ICONI's cloud solution to manage your support programme
From our experience of working with Programme Directors, Operations Managers, and Programme Managers, we've learned that there are six key areas where the fact that our case management software is hosted in the cloud, is able to offer real business advantages.
1. No upfront hardware costs
On-site/on-premise solutions usually come with upfront costs, not with our cloud solution. When there is no need for hardware, there are no costs for hardware. Our customers only pay for their cloud solution.
2. No loss of service or data should a failure or redundancy issue occur
Cloud solutions are extremely reliable and the Azure environment offers everything you could expect from Microsoft including back-up, disaster recovery and additional business continuity options.
We are able to offer varying options when it comes to prevention of failure, or redundancy. As standard, copies of our customers' applications (their ICONI software platform) and their data are always stored in different datacentres. So, should a failure occur, your business can continue as usual, with no loss of data, while the issue is resolved.
3. Scale and grow your support programme easily
If your support programme grows, your solution can grow too. Additional users can be added, extra support stages introduced, or even additional programmes added. Furthermore, there's no need to worry about how the extra load will affect performance either, as we can easily increase the capacity of the underlying solution to deal with the growth and change.
4. Regular security updates keep your programme data and your software application safe and secure
The Microsoft Azure environment comes with a built-in Security Centre where all components added to the hosting environment are automatically assessed. We receive notice of these assessments, which highlight to us possible enhancements and suggestions, which will improve the overall security of the environment.
5. No frustrations from slowing or loss of performance over time
We've all experienced the annoyance of using ageing software which becomes slower and slower over time. But with Microsoft continuously upgrading the underlying infrastructure of the ICONI solution, you can expect our applications to always run smoothly, providing optimal performance to users.
6. Leave the technical expertise to us
We will look after and manage the underlying infrastructure for you, allowing you to focus on delivering your support programme.
About the ICONI Cloud Services team
We know from working with our customers that our cloud-based system offers massive advantages in the delivery of beneficiary support programmes – and that's why we've invested in the development of a dedicated in-house cloud service team. They're responsible for managing our cloud infrastructure, including our customer solutions and software development platforms, our key focus is on improving the efficiency of our software platform and customer solutions through automation, further stability, improved security and better performance.
The CEP application has been designed, configured and implemented using our expertise of successfully delivering beneficiary support solutions for over 20 years.
Book in a demo to see how the ICONI solution could help your beneficiary support programme
If you're a programme manager who would like to take a look at how the ICONI approach can help you maximise the costs, security and scalability of your support programme – get in touch. We are ready to identify exactly how the ICONI CEP application can help. Book your 121 demo.
---
A quick guide to cloud terminology
What is the cloud?
In very simple terms, the word "cloud", "cloud computing" and "cloud storage" refers to everything that is stored on, and accessed through, the internet, as opposed to existing on local computers. It covers a whole range of computing services such as servers, storage space, databases, networking and software.
What is a cloud solution?
A cloud solution is a software application which can be accessed via the Internet using a standard browser such as Google Chrome, Microsoft Edge or Mozilla Firefox.
Is cloud computing a new invention?
No. It's been in existence since the 1960s but wasn't popularised until the 2010s, at the point where the internet's bandwidth could meet the demands of cloud computing.